In dieser Rubrik findet ihr 568 Interviews mit Wrestlern und Offiziellen, die im Laufe der Jahre auf Genickbruch veröffentlicht wurden. 75 der hier gelisteten Befragungen wurden exklusiv von Genickbruch-Mitarbeitern durchgeführt.
Exklusivinterview mit Mikey Whipwreck
How did you get into the wrestling-business, especially into ECW?
A friend of mine used to do "jobs" for the WWF in the early 90's and when he decided to open a wrestling school, I would go down and practice and when ECW wanted to rent his ring I was put in charge of "ring crew" and After the ring was set up my crew and I would mess around doing spots and backflips and When Paul Heyman saw me he asked if I wanted to wrestle and I said "ok", and the rest is as they say history.

What feelings did you have when you won the ECW Television Title as a rookie and winning the ECW Tag Team Titles with the legendary Cactus Jack?
I never really felt any different after winning the TV title I thought of it as getting my as kicked and having to carry the belt around. Honestly though it was a really cool feeling. I never even thought I would be wrestling and then to win a belt it was unreal. I was always a HUGE fan of Mick foley and when I got the oppertunity to wrestle and learn with him it was even better then sex. OK it wasn't that good but it was the coolest moment in my career.

What were the biggest differences between ECW, WCW and WWF?
In ECW we were like a giant disfunctional family that wanted everyone to do well so the company would grow and we would all make more money. WCW sucked with the ego's getting in the way of the product and I never spent too much time in their lockerroom to comment.

What went through your mind when you entered RAW 1997 with Tazz? Was it your first national TV appearance?
Yes that was my first National TV experience and the match was so short that by the time i realized I was on WWF RAW it was over and I was in the back thanking Tazz and we wanted to go back out there and do it again.

What did you think when ECW became a stable in the WWF?
I thought it was good AND bad. With ECW being involved with the WWF it got our fans watching their product and That is when the WWF started the "ATTITUDE" campaign but it did get ECW some national exposure which was what we needed. But I think in the long run it was bad for ECW.

Do you think ECW's and WCW's big invasion hurt the wrestling business? And what do you think of the current situation in the WWF?
The invasion was a great idea that could have worked much better if they took their time with it and didn't kill it within a month's time. It didn't hurt the wrestling business because WWF already owned the WCW and ECW was dead anyway. I don't really watch the WWF that often but when i do I only pay attention the the top guys and the old ECW boys.

Did you ever wrestle in Germany? If so, what did you like about Germany and what did you not like?
- Never been to Germany. I was supposed to be in Hannover in 97 but I had to have knee surgery

You have made your retirement in autumn 2001. Was is hard to say goodbye to the wrestling world? And why did you retire?
It was easy to say godbye. The independent scene is really hard to deal with but I met a lot of talented young guys that I'm hoping to use in my company if schedules permit. I had to retire because of all the injuries I've had in my career.

Tell us a bit about the Questionmark Wrestling Alliance, the creation of its name! Where do you see the ?WA in a year and when will we see the ?WA in german television?
The creation of the name is a long story but I talk all about it on my website (www.qwawrestling.com) The ?WA is going to be a fun place to learn and wrestle, where I can prepare them for bigger and better things. If we can get a local TV station in Germany to have us on I'd love to be seen in Germany.

Do you plan signing any big names for the promotion, will it just be a school-based promotion or do you plan something special? And Do you plan to play an active Role in the ?WA? Can you imagine returning back to the ring in a special QWA match?
There will be a bit of everything in the ?WA, names, students, women, maybe Mikey...maybe not.

What is the first thing that comes to your mind when you hear the name...
Shane Douglas: Hell of a talker
Chris Jericho: Very charismatic
Chris Benoit: Machine
Mick Foley: The best
Sabu: Suicidal, Homicidal, Genocidal
Red: Best flyer in the business
Rob Van Dam: The next main eventer
Tazz: The most miserable man I know, but the fairest.
Genickbruch.com: Top german wrestling site
Europe: It's far away from me
Interessantes bei GB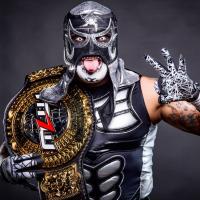 2018
in der Karriere von ...
Interessantes bei GB
Ein paar kleine Inseln im Pazifik bilden den Ursprung einer der größten Familiengeschichten im Pro Wrestling. Samoa ist die Heimat der Anoa'i Familie, deren bekanntester Sproß wohl The Rock ist, deren Ableger aber auch Umaga, Rikishi, Rosey oder Yokozuna umfassen. Wie die Herrschaften miteinander verwandt sind und wie es zur langen Tradition der Samoaner im Wrestling kam, verrät ein Kapitel unserer Kolumne Family Tradition. ... aufrufen