In dieser Rubrik findet ihr eine Übersicht von 1699 Filmen, in denen Wrestler sowie Offizielle aus dem Wrestlingbusiness mitgespielt haben. Die Listen können nach dem Namen der Person und nach dem Namen des Filmes geordnet werden. Angegeben ist immer der Originalname des Filmes, nach "X-Factor" ist somit beispielsweise unter dem Namen "Beyond Belief" zu suchen. Ergänzungen und Korrekturen könnt ihr per Kontaktformular an uns richten.
Filme, die mit "B" beginnen
Baby Face
Nat Pendleton
Baby Face Harrington
Nat Pendleton
Babylon A.D.
Jérôme Le Banner
Bachelor Father (Serie)
Mike Mazurki
Bachelor Party Vegas
Chuck Liddell
Back in Action
Roddy Piper
Backlash
Bas Rutten
The Backyard
Rob Van Dam
Bad Boys II
Oleg Taktarov
Bad Country
Luke Hawx
Bad Guys
Alexis Smirnoff, Brad Rheingans, Buddha Khan, Chief Jay Strongbow, Curt Hennig, Gene LeBell, Jay York, Jesse Hernández, Lenny Solomon, Mando Guerrero, Pistol Pete, Red Bastien, Red Shoes Dugan, Sal Lothario, Sgt. Slaughter, Toru Tanaka, Tux Newman, Victor Rivera
Bad Guys (1986)
Chief Jay Strongbow, Toru Tanaka
Bad Guys (2008)
Quinton Jackson, Ray Sefo
The Bad News Bears Go to Japan
Antonio Inoki
Bad Pack
Roddy Piper
The Bad Pack
Roddy Piper, Ultimate Solution
Bail Enforcers
Trish Stratus
Bakko Yokai Den Kibakichi 2
Masakatsu Funaki
Bald
Diamond Dallas Page
Bandit: Bandit's Silver Angel
Fred Ottman, Tyler Mane
Barbwire
Tiny Lister
Baretta
Hard Boiled Haggerty
Barry Lyndon
Pat Roach
Bashful Buccaneer
Bull Montana
Batman & Robin
Jesse Ventura, Ultimate Solution
Batman (Serie)
Mike Mazurki
Battle Dome
Midajah
The Battle of Gettysburg
Nat Pendleton
Battlestar Galactia (Serie)
Paul Lazenby
Baywatch
Brian Knobbs, Brian Pillman, Hulk Hogan, Jeff Warner, Jerry Sags, Jimmy Hart, Kevin Sullivan, Randy Savage, Ric Flair, Shawn Michaels, Sid, Vader
The Beast of the City
Nat Pendleton
The Beast of Yucca Flats
Super Swedish Angel
Beat
Cash Money Erkan
Beatdown
Bobby Lashley, Heath Herring, Michael Bisping, Mike Swick
Beat Down
Rosemary
Beauty and the Beast
Big John Studd
Be Cool
The Rock
Behind Enemy Lines: Colombia
Mr. Anderson
Behind Locked Doors
Super Swedish Angel
Behind the Rising Sun
Mike Mazurki
Belle of the Nineties
Mike Mazurki
Below the Belt
Lenny Montana
Below Utopia
Tiny Lister
Ben
Dave Sullivan
Bending the Rules
Edge
Benny Future and the Madman from Manchester
Lana
Berlin - Tag und Nacht
Pascal Spalter, Tarkan Aslan
Betas
Brian Kendrick, Scorpio Sky
The Beverly Hillbillies (Serie)
Mike Mazurki
Beverly Hills Cop 2
Kimberly Page, Tiny Lister
Beyond Belief: Fact or Fiction
Terry Funk
Beyond the Mat
Dennis Stamp, Jake Roberts, Michael Modest, Mick Foley, Road Dogg, Terry Funk
Beyond the Match (2010)
Ken Shamrock, Kurt Angle
Big Bang
Kurrgan
The Big Brawl
Lenny Montana
Big Brother
Darcy Steel, Luke Marsden
Big Brother
Jessie Godderz
Big City
Bull Montana
The Big Lug
Johnny Impact
Big Momma's House 2
Stacy Keibler
Big Mommas: Like Father, Like Son
Lana
Big Mommas: Like Father, Like Son
Cru Jones
Big Money Hustlas
Mick Foley
Big Money Rustlas
Corporal Robinson, Jimmy Hart, Joe Doering, Sabu, Scott D'Amore, Scott Hall, Shaggy 2 Dope, Violent J
The Big Pond
Nat Pendleton
The Big Show-Off
Sammy Stein
Big Stan
Bob Sapp, Don Frye, Randy Couture
The Big Street
Sammy Stein
The Big Timer
Nat Pendleton
Big Time Rush
Chris Masters
The Bill Dana Show (Serie)
Mike Mazurki
The Billion Dollar Thread
Harold Sakata
Bill's Seat
King Kong Bundy
Billy Batson and the Legend of Shazam
The Rock
B.J. and the Bear (Serie)
André the Giant
Black Belt Jones
Earl Maynard
Black Fury
Mike Mazurki
Black Mask 2: City of Masks
Rob Van Dam, Tyler Mane
Black Rain
Toru Tanaka
The Black Sleep
Super Swedish Angel
Blade: The Series
Chuck Liddell
Blade: Trinity
Triple H
Blindheits-Engel
The Sandman
Blonde Crazy
Nat Pendleton
Blood Alley
Mike Mazurki
Blood and Bone
Bob Sapp, Ernest Miller, Kimbo Slice
Blood Bath
Glacier
Blood Heat
Shin'ya Hashimoto
Bloodlust
Michael Kinney
Bloodmoon
Rob Van Dam
Blood Out
Bobby Lashley
Blood Song
Lenny Montana
Bloody Monster
Peter White
Blowfish
George Steele
Blue Hawaii
Gene LeBell
The Blue Knight (Serie)
Harold Sakata
The Bob Newhart Show
Hard Boiled Haggerty
Bodyhold
Ed Lewis
The Body is a Shell
Sammy Stein
Body Slam
Afa, Barry Horowitz, Bruno Sammartino, Lou Albano, Ric Flair, Rikishi, Roddy Piper, Sheik Adnan Al-Kaissey, Sika
Bolt
Randy Savage
Bomber's Moon
Mike Mazurki
Bonanza (Serie)
Mike Mazurki
The Book of Fate
Tony Halme
The Border Legion
Bull Montana
The Boxer
Dave Finlay
Box of Moon Light
Buddy Landel
Box of Moonlight
Thrasher
Boy Meets World
Mick Foley, Vader
The Boys Behind the Desk
Lou Albano
Brain of Evil
El Santo
Brannigan - Ein Mann aus Stahl
Brian Glover
Brass Buttons
Bull Montana
Breaking Into Society
Bull Montana
Bridal Party Massacre
Brian Anthony, Sara Brooks
Bride of the Monster
Super Swedish Angel
Bring on the Girls
Sammy Stein
Broadway
Sammy Stein
The Bros.
Jimmy Hart
Bubble Boy
Midajah, Stacy Keibler
The Buccaneer
Mike Mazurki
Buck Privates
Nat Pendleton
Buck Privates Come Home
Nat Pendleton
Buck Rogers in the 25th Century
Hard Boiled Haggerty
Bud Abbott and Lou Costello in Hollywood
Mike Mazurki
Buffalo Bushido
Jimmy Snuka
Bulletproof
Ultimate Solution
Bully Beatdown
Andrei Arlovski, Ben Lagman, Conor Heun, Eddie Alvarez, Jake Shields, Jason Miller, Jon Murphy, Michael Westbrook, Nick Gaston, Thomas Denny, Tony Bonello, Tony López
Buried Treasure
Alex Shane
Burke's Law
Brian Pillman, Buff Bagwell, Dusty Rhodes
Burn 'Em Up O'Connor
Nat Pendleton
Burn in Hell
Tito Ortiz
Burn Notice (Serie)
Glacier, Mike Sanders
Butter
Tiny Lister
Butterfly Effect
Paul Lazenby
Buy & Cell
Roddy Piper
By Whose Hand?
Nat Pendleton
Interessantes bei GB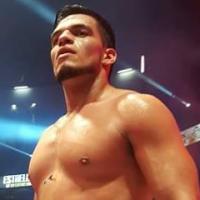 2016
in der Karriere von ...
Interessantes bei GB
Hinter jedem guten Sportler steckt auch ein guter Trainer - diese Weisheit trifft auf das Wrestling genauso zu, wie auf andere Sportarten. Niemand erlernt das Wrestling ohne entsprechende Ausbildung, je besser der Lehrmeister, desto besser häufig auch der Schüler. Wir haben uns die Mühe gemacht, diese Ausbidlungsverhältnisse in unserer Datenbank zu erfassen, so bleibt ihr im Bilde darüber, wer die aktuellen Superstars zu dem gemacht hat, was sie heute sind. ... aufrufen